New This Year
Redamak's Menu has been totally redesigned, renovated, rejuvenated, reinvigorated from customer and staff feedback!
Introducing Soft serve Milk Shakes!
Our 4 season room is now known as the "North Dining Room"!!!
We have updated the heating and cooling system for customer comfort and dining pleasure!
---
Sit Back and relax in our temperature controled "North Dining Room" (formal terminology for heated Porch!)
Cabin Fever? We've got the Cure! Enjoy a legendary burger with friends while laughing at the elements.
The North Dining Room is:
Open Friday evenings, and all day on Saturdays and Sundays from March 1 to mid-April
From mid-April to early June, it is open all day Friday – Sunday
From early June to late August, it is open all day 7 days a week
From late August thru closing day, it is open on the weekends only
No reservations are required.
Private Party – Family Reunion – Wedding Rehearsal Dinner!?! Give us a call – our North Dining Room would be perfect for any occasion. Just call (269) 469-4522 and ask for Chuck Maroney. For more information on private parties and special occasions, click here.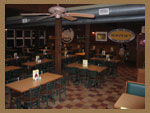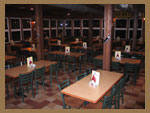 ---
New Menu Items!
Soft Serve Milk shakes and "The Blast's"
Appetizers Anyone
Fresh Fruit & Veggies
Just Salads
Fish Flatbread Tacos
BLT
Trio Club
New Buffalo Style Dog
Click here to view our menu!
---
Our Famous Working Person's Special is New and Improved!
Served Noon to 3PM EST Monday thru Friday
Not served Saturday, Sunday or Holidays
(Hours subject to change)
---
FREE Refills on Fountain Pop, Fresh Brewed, Sweetened Raspberry Iced Tea, and Lemonade (by the glass)!
---
Red's Blast