Don't just take our word for it! Take a look at what Redamak's customers just like you have to say about the food and fun at Redamaks. (No monetary consideration has been given to customers for providing testimonials.)
---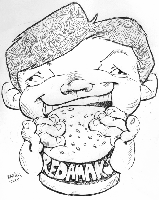 Hi there,
I am a Social Worker for Harbor Light Hospice in Mishawaka. I have a gentleman in a nursing home here who is quite young, and due to his decline he is unable to live at home with his wife. He has several health conditions, and within the last few months was put into hospice care. When I met him he was pretty withdrawn and feeling down, and admitted he had no appetite. Nothing sounds good to him anymore, which is part of his disease process. He tries to force down grilled cheese sandwiches, because that is the only thing that sounds good to him. During one of my visits I asked him, "if you could have anything at all, anything in the whole world, what would it be?", and without hesitation he said "Redamak's cheeseburger". We then got into a discussion of the Redamak's cheeseburger, as I had never had one. I've never seen him so animated. Before my next visit, I phoned his wife and asked how he likes his cheeseburgers, and she told me. I called his nursing home and told them his dinner would be brought in. I surprised him that evening with his Redamak's cheeseburger, and I wish you could have seen the look on his face. He immediately sat himself up in bed, moved items off his table, and completely devoured the whole burger and all of the fries. I never imagined how happy a simple burger would make someone, and I'm so glad I made the trip to New Buffalo. My patient was thrilled, and finally went to bed with a full stomach. His nurse gave me a huge hug, because she was so happy to finally see him eat an entire meal. His wife actually cried with relief. When I stopped in to see him yesterday, he immediately said "Hey, there's my Redamak's girl". We joked about him holding on through the winter so that he's able to have another burger next spring. I wanted you to know this because although I know you get great feedback on the quality of your food, you should also know it is more than just delicious. Your food truly brightened what may be the final days of a really special man's life. I know myself, my patient, his nurse, and his wife are all very grateful.
Shannon Bloise
Harbor Light Hospice
---
Love, love, love Redamak's! Never pass up an opportunity to stop by for a burger and fries. Would very much like to see you put fried pickles on your menu. Not many places offer this and I think it would be an added bonus to your menu. (spears are better than pickle chips). Please consider. Thank you.
---
We recently visited your restaurant for the first time and truly enjoyed ourselves! Great food, nice selection of beer on tap and the service was prompt and efficient! Indeed, we'll be back!!
Chuck & Alice Sperlak
Lemont, IL
---
The burgers are sooooo good. I have been coming here since I was a kid. Now I drive about 90 miles from my home in Chicago just to "bite into a legend"!!
Declan Birmingham
Chicago, IL
---
Stopped at your place for lunch yesterday. Truly awesome burgers! Very friendly staff! Thank you!
Tim
Hudsonville, MI
---
Just came in for the first time this year and as usual the service and food were fantastic. I'm 67 now and have been coming there since I was a kid. It just keeps getting better and better. You have the magic formula. Keep it up and when I die I want to be buried with your double cheeseburger and cheese fries. LOL My wife and I will be back very soon.
Mike Huffman
LaPorte, IN
---
Thank you for comping our dinner last Friday night. It was a pleasure to meet you and to see what an incredible and incredibly large space the old Redamak's has become.
Like I said, I started working there when George and Gladys reopened in March '67 after their annual winter vacation – I had just turned 14 in December. My dad was a longtime customer and a friend to George, Gladys and Terry and our family often came in to eat and drink. I started as a cook's helper and made hamburger patties and sliced onions and cheese and worked every Thursday night after school preparing the fish for Friday night's fish fry. I also dressed the burgers there at the beginning. George and Gladys were always very kind to me, as was Terry. But Thelma Dittmer ran the kitchen and she was my boss. I learned what I think of as a strong and prideful work ethic from Thelma and her son Lynn. They were such hard workers and I wanted to be just like them. I can remember my first solo shift as a cook – I think it must have been a weekday afternoon and George was the only person working out front. But mostly I remember the packed houses and packed beer garden during the Summer, especially on the weekends. Wow!
I went away to college in the fall of 1971, but often came in as a customer and to say hello, especially to Thelma whenever I came home. I also remember a waitress named Mae who was also a wonderful person.
The cheeseburger Friday night tasted surprisingly like I remember them – good quality meat, sesame seed bun, velveeta-y cheese and a nice big slice of onion. If I ever get back, I'll definitely try the breaded fish.
After moving to New York after I got my B.A., I moved to Chicago for a few years and I've been in Seattle since 1985. Redamak's made a lasting impression on me. George, Gladys, Thelma and Lynn are all fondly remembered. Having a cheeseburger and knowing that the Redamak's tradition goes on was integral to my visit back to New Buffalo last week – almost as important as seeing family.
By the looks of all the cars I saw in the lot as I drove by each day I was back in town, you don't need my "good luck" wishes. But all the same, I wish you all the best.
Glenn Fox
Seattle, WA
---
For years, we drove past the Redamak's sign on our way north to Pentwater MI. Last year we finally decided to stop and experience this "legend" for ourselves and we were not disappointed. We plan to make one final stop before Redamak's closes for the season. YUMMY is the word here!

Denise
Downers Grove, IL
---
LOVE your restaurant! I have made it a stop for all of my friends from out of state and we never miss the chance to come and get the best burgers around. I find myself longing for the taste of these burgers in winter and cannot wait until you open for the season. Be there soon! Hooray!
Linda Pauli
Chesterton, IN
---
Heading there on 9/24/2010 – can't wait!!!
Sounds soooooooooooooo yummie and fun…
Maria
Elkhart, IN
---
I have simply enjoyed Redamak's ever since I rode the fire truck!!! My sister and I are getting big now. I remember a picture with us on the fire truck. We would go there every summer for a cheeseburger at Redamak's. Keep the tradition continuing Maroney family!!!
Anonymous
LaPorte, IN
---
Great food and service. Our waitress was great!!! Rode 220 miles to get there. It was worth it, thanks.
Thomas W. Smith
Greenfield, IN
---
Love the burgers and fries. Don't think you will find better any place else. We have been coming here for years.
John and Karen Novina
Hebron, IN
---
Erin and I have mothers who had summer homes in Sawyer, MI and became great friends over the years. Turned out they had their only daughters on the same day and same year, talk about a coincidence : ) Our moms stumbled upon Redamak's soon after it 1st opened and were eager to take us to experience the wonder of "biting into a legend" and now Erin and I are hooked. A summer in Sawyer is just not the same without a delicious burger and side of fries from Redamak's. Their burgers not only taste delicious but the atmosphere inside is fun and just screams summertime! Erin and I will definitely carry on the tradition with our children, making Redamak's a trademark throughout 3 generations! Wooo Go Redamak's!!!
Jill and Erin
St. Charles, IL
---
Hurry already – we're STARVING!!! xoxo
See you soon!
Lisa M. Hamilton
Michigan City, IN
---
I have been a fan of Redamak's since I was 11 years old. I am now 47 years old and live in sunny California. I grew up in Hobart, IN, about 50 minutes away from New Buffalo. As a child, my eldest sister, seventeen years my senior, would take me to Redamak's at least once or twice a year for "THE BEST CHEESEBURGER IN THE WORLD!" I have yet to ever experience the same taste and excellence in the burger world. I'd love to see Redamak's here in CA…Hey, I'll manage it. Have a degree in Mktg/Mgmt and have a lot of connections her in Simi. I'll never forget how awesome your burgers were. Love you Redamak's! P.S.: Sorry Chicago didn't work out…you just didn't have me behind the operation!
Debbie Jacob
Simi Valley, CA
---
I take my vacation to Lake Michigan each year as I grew up in Michigan City, IN. It is a must for my family and I to go to Redamak's twice while we are on vacation. Still the best burger ever. Great to see the pics of the 70's when I first started eating the New Buffalo Tradition! Any thought the mail order?
Bruce Badgley
Reading, PA
---
Hi Linda,
I just had the opportunity to come into Redamak's for the first time this past week. The burger was AMAZING!!!! I was really curious, if you could share the Redamaks' Burger Secret? I live in AZ and not able to make it back but would LOVE to allow my Arizona Friends and Family to experience what a great burger you have.
Many thanks,
Kelley
Kelley Rence
Phoenix, AZ
---
I live in Grand Rapids and my sister and her husband live in Chicago. New Buffalo is a halfway point for us to meet and do lunch and we tried Redamak's last fall. It was incredible! Loved the burgers, great service, and excellent beer selection! I can't wait to get back again. The next time we meet in New Buffalo I am going to insist on Redamak's
Mick TerMolen
Grand Rapids, MI
---
My friend, Joe Piane (Head Track Coach at Notre Dame) recommended your establishment while I was in Grand Beach. I haven't stopped telling everyone of the wonderful experience and superb food quality I experienced. If I was asked what you could improve on I would have to say absolutely nothing. Thanks for a wonderful meal.
Robert Davis
Rock Ralls, IL
---
Your place was our first stop on vacation last Monday June 15th. I read about it on your web site, it was well worth the drive 5 & a half hours to get there. Your hamburgers & fries are the best we have had in years. The waitress was outstanding. I will sure come back on a vacation in the future & Redamak's will be our first stop again.
Keith Greenwell
Loogootee, IN
---
What a fine establishment. I have been going to Redamak's since it opened. When I was younger and heading back to IN from Hart, MI it was the last stop and well worth the wait. I haven't been back there in a few years, however I proudly wear my shorts and tell everyone where you can "Bite into a Legend!"
Thanks for all the fantastic service and food.
Kathleen Wszolek
Mesa, AZ
---
Last night I was watching a new T.V. show called "My Boys" and I just about came off the couch when I
saw one of the main characters wearing a yellow t-shirt with your logo on his shirt.
Being a native son of New Buffalo (1969-1986) and telling my wife she has not eaten a burger that she has sunk her teeth into "the legend" for about the last 20 years, I yelled from across the house to have her come and at least see the logo on the bube tube.
I hope this is as good of news to you as it was for me to be able to re-live some of my youth for just a
couple of minutes.
It also made me sad because it was then that I remembered that it was the summer of '86 that I had the "working man's special" for $ 2.50 on someone boat in the middle of the lake.
Thanks for making me hungry all over again,
Mike Null
p.s I know it is supposed to be called the "working persons special" but every time we did a carry out back then, that is what us locals called it. Thanks
---
We love to eat on the porch! Have been up twice since you opened this spring and laugh because we always run into old friends and their families eating there. Love your burgers and curly fries and your chill though I can't eat all three in the same meal. Been coming since I was a little girl…many, many years ago. Keep up the good work.
Lynn Carrington
South Bend, IN
---
Dear Manager
My sister and I took our mom on a day out and we ended up at your restaurant. I must admit
that your hamburger's were the best that we have ever tasted. KEEP UP THE FANTASTIC JOB!
I can positively tell you that we will be back. A satisfied customer.
Joan Kessel
Lowell, IN
---
Redamak's is the best fast food restaurant ever! With a nice relaxing atmosphere and friendly people there's no other place like it! From great burgers and fries to cool delicious milkshakes Redamak's is surely the place to go.
Chelsea
New Buffalo, MI
---
Is it possible (please) to order one (or more) of your delectable delicious and divine burgers and transport it (or them) safely back from New Buffalo to our home in Cleveland….
I will be visiting my mother in Michigan City–Thursday through Saturday–and while I will be able to enjoy one (or more) burgers, my wife will be most disappointed—divorce is a possibility) if I cannot bring one (or more) back home with me…..
Help!
Colin
Cleveland, OH
---
Colin;
Thanks for the inquiry. Our burgers will travel…. I would suggest ordering the burgers plain with the condiments on the side. You'll be able to microwave them upon arrival in Cleveland. Your wife will be so appreciative. Redamak's Burgers as alimony!?! What an option!!! Safe Travels, can you bring some sunshine with you?
Take Care, Chuck Maroney
Gen. Mgr., Redamak's
---
OUTSTANDING….thank goodness you wrote back before she retained counsel…….should be at your place of employment sometime Thursday for dinner…..please stop by…..and we can talk then about how many and how much….
You are my hero!!!!!
Colin
Cleveland, OH
---
I have been eating at Redamak's ever since I can remember. There are just no other cheeseburgers like it! I wish the restaurant didn't have to close during the winter, but it makes me look forward to spring all the more.
Brittany Nowak
Michigan City, IN
---
I'm originally from LaPorte, IN and every summer when I come home to visit, this is a MUST! My children love the food just as much as I do! It was a tradition when I was a kid to go to New Buffalo when Redamak's would open for the season, and get a double cheeseburger and deep fried mushrooms
w/ranch. I can't wait to return next summer. This place is the best!!
Amanda
Seattle, WA
---
Hands down, the absolute BEST burger I have ever had in my entire life!
Andrea Sagols
Lisle, IL
---
I grew up on Redamak's. I moved away when I was 18, but grandma still lived in the area, so I always knew I would still be able to have a cheeseburger at least twice a year. Unfortunately, my grandma passed away last year and haven't made it back to the area since her funeral. I not only miss my grandma, I miss those cheeseburgers. Even at 94, it was a treat for my grandma to have a cheeseburger. These days, I am 4 months pregnant and I really WANT a Redamak's cheeseburger. Oh well, I will be back soon as I am in need!
Katie Shanahan
Tontogany, OH
---
My wife, daughter, and I have been coming to Redamak's for many years. Recently, we have made it a "tradition" to drive up on your opening day, which we did this year. The burgers were excellent, and I actually like the new French fries even better than the crinkle cut fries. However, all three of us were extremely disappointed with the new "fountain" iced tea which was not very good. We are all brewed iced tea drinkers and have always enjoyed your iced tea in the past. It seems to me that if you are going to be a truly excellent restaurant, you need to bring back to the brewed tea, I am sure there are many, many tea drinkers who would agree. Thank you for the opportunity for this feedback, and I hope it makes a difference. Have a wonderful year and the next time we are up that way, we can sip on a cold, refreshing glass of BREWED iced tea.
An Almost totally Pleased Customer,
Daryl Bayer
Valparaiso, IN
---
Please bring back Old Style draft. It's a great beverage to enjoy with you burgers. I was very disappointed that you dropped Old Style when we came in to eat a couple of weeks ago. I'm sure there are more than a few of us who really enjoyed a schooner of Old Style with our Redamak's burgers.
Chris Taelman
Granger, IN
---
Hi Linda, my name is Robin and I am bringing my family to Michigan for a day at the beach and then dinner at Redamak's. I was just wondering if you can let me know any good beaches you would recommend around the area that is a 15 to 20 minute drive from the restaurant itself? We are planning the trip for August 17th so if you can get back to me A.S.A.P it would be greatly appreciated.
Robin Joseph
Tinley Park, IL
---
Hi there,
I come from a long time of Redamak's worshipers, but I have recently had to change my diet and
can no longer enjoy meat or poultry. Is there a possibility that Redamak's may offer a veggie burger for its dietary challenged fans like myself?
If there is any way that you might have some kind of frozen veggie patty in the kitchen the weekend of April 4 please let me know as it would truly make my 32nd birthday. I still come from a family of meat eaters and we would all love to come out and celebrate at our favorite family gathering place.
Thanks for the many, many wonderful memories,
April Lesh
---
Hi Linda. We are having our wedding up there in April and wanted to inquire about ordering cheeseburgers to give to our guests at the end of our reception at Heston Hills. You may actually know my future in-laws (Reinke's and Sima's). We are still waiting for some more wedding responses, but are looking in the 275-300 range. Please let me know if you can accommodate. Thank-you!
Dave McIsaac
Chicago, IL
---
I want to thank you not only for your contribution of a great Momma's Sampler Platter, but also for acquiring and shipping my phone (red Motorola Razr) back to me in Chicago. It is amazing how the kindness of going out of your way can brighten another person's day. I hope the best of your business and cannot wait to come back for some deep fried goodness!
Steve Derfiny
Chicago, IL
---
Jim and Angie,
I know this is a bit irregular, but I would like to purchase a $10 gift certificate. I am organizing an outing for our family and the first stop is your restaurant. I have put together a game for our group and I would like to have a gift certificate as first prize. I know I probably could've purchased it there, but I'm a stickler for getting as much done in advance as possible.
I decided it was worth the risk to send cash in the mail. I know you do not take credit cards or checks.
Thank you,
Dolones Kowatch
Pewamo, MI
P.S. I've enclosed a copy of our game. I thought You might get a kick out of it. Click here for game (PDF).
---
I recall going to your place since I was around 12 with my aunt and uncle who have a place in Union Pier. Now I'm 43 and am bringing my kids; my son is 12 now and it brings back memories from when I first visited Redamak's more than 30 years ago. Keep up the good eats. I hear Buzz and Stever love it too. (104.3 fm chicago dj's) They always mention your place on the air.
Mike Reszke
Algonquin, IL
---
I just wanted to tell you how excited I was to find your website! Many years ago (back in the early 70's), my stepfather used to take us to eat cheeseburgers at your place ("The best cheeseburgers in the world!"). I have never forgotten your restaurant. At the time, we lived in Michigan City, Indiana and the drive up was totally worth it. He passed away in 1975 and we moved to Texas, but I have never forgotten your cheeseburgers! Now I am a mom of two boys, and though I try my best, my 'famous' cheeseburgers are not quite as good as yours! One day I will come visit and bring my boys to see you! You will always be part of a very happy memory for me! Also, I would like to purchase some of your 'stuff.' Is it possible to do this online? Thank you again for the wonderful memories!
Kaye Sheets
Fort Worth, TX
---
We have been coming for Redamaks for years and every year it is excellent. We try to bring different family members each year to try it and they all are hooked! We look foward to coming this year (hopefully several times) and bring more family members! The Strawberry Daiquiris are to die for!! The Cheeseburgers are the best in the world!!
Wendy
Lowell, IN
---
I am a 69 year old 39 year resident on Laporte Indiana, happily married,
we have 13 children between us and our 26th grandchild was born yesterday.
The new mother is one of the first of our family who discovered your restaurant.
We have been coming there for at last 20 years.
Last year I looked for your web site but found nothing. I think it
was because I spelled your name wrong, Redemacks. I don't claim to
be a good speller.
The kids are all over the USA, but a trip to Redamaks is on the top of
the list when some come to visit. I sent the new mom your web address so she can enjoy it.
Your food, service and atmosphere is just right. I love the web site, great
fun and music.
Closing thought?
Thanks for running such a great establishment.

Dave & Marilyn Huss
---
I brought the band I'm in (Roger Drawdy and the Firestarters) to Redamak's after filming a music video in Michigan City. We all loved the cheeseburgers! OUTSTANDING. We even took a video in your building and it went on the final credits for our DVD that was shown at our album release in the IMAX Theater, Indianapolis. We'll see you again in 2008.

John McBride
Mason, Ohio
---
Oh my god. I have never been to your place before today. Two people with two alcoholic drinks, an appetizer and two TRIPLE cheeseburgers for only 30 bucks? Are you kidding me? The wait staff was great, food arrived quick, the hosts were friendly and it was a blast. The burger I had there was the single best burger I think I have ever had. I've never been so wowed by food and a burger joint that I actually wrote feedback, but this is a special case. I will forever ALWAYS stop by Redamak's when I'm in the area. You guys made a fan out of me!
Greg Rucinski
Griffith, Indiana
---
As I sit here in early March looking out at the still white woods, I'm suddenly delighted to realize that IT'S MARCH! Long before the red-winged blackbirds or the first crocuses return to view, the true harbinger of spring is once more available to cure our cabin fever…Redamak's. We don't often get the chance to travel to exotic vacation spots, but we have learned that a mere 45 minutes away is an afternoon's respite in a community that has the flavor of unreachable east coast tourist destinations. Whenever we need a breather from the mundane, we've piled the kids in the van and taken the short jaunt to New Buffalo.
I can't put my finger on what it is about the atmosphere of Redamak's that is so entirely relaxing. The food is delicious and brilliant in its simplicity. Maybe the knotty pine sets the mood. The new porch configuration is a tremendous improvement. Even during the busiest of summer days, we rarely need to wait for seating. Even though our girls are about to be off on their own, I know that they hold Redamak's as a cherished childhood memory. By the way…we'll be there about 5:00 today. Save us a seat!
Sheriff David Lain
Porter County, Indiana
---
All I can say is UNREAL. This place can't exist!!! IT'S THAT GOOD !!!
Dave Miller
Schererville, IN
---
I was first introduced to your restaurant by a friend who has been going there since he was a boy. His family has property they use in the summer, so it has become a tradition for him to stop at Redamak's on his way to or from "the lake". I LOVE your restaurant and have told people about it. My sister can't wait to go again. I now go there with my friend when we come to Michigan together. Looking forward to another great summer. Your website looks great!
Diane Sheets
Indiana
---
Love those burgers…can't wait to sink my chops into one this year…it's definitely tradition to eat at Redamak's throughout the season…
Hal Martin
Trail Creek, IN
---
Dear Red-a-Maks,
I am a big fan. Your cheeseburgers are out of this world and so are your fries. I can't wait until my next visit. How did you come up with the name "Redamaks"?
Happy Belly = Redamak's
Redamak's is #1
Thank you!
Happy After Eating At Redamak's
Anonymous Youngster
---
It has been a tradition in my family that spring doesn't officially start until we have visited Redamak's and had our first (of many) cheeseburgers. Thanks for being THE best cheeseburger place in the world!!
Andrew Soyster
Porter, IN
---
Hello. Me and my family have been going to the restaurant for about 6 years now. I wanted to share a little story with you. My 7 year old little girl had heart surgery when she was born, we almost lost her. The reason I wanted to say this…we started eating at Redamak's and the staff has been great to my little girl – they all know she had her surgery and the staff has opened their hearts to my little girl after reading the history. I know and am convinced this is the only family oriented place to eat in the WORLD!!! This won't make it to the cutting room floor to go on your web site, but I just wanted to tell you we LOVE YOU folks at the MAKS.
The Monahan Family
Hobart, IN
---
I was helping my wife Joan drive 12 girl scouts to Michigan for apple picking in October. When my wife asked if they wanted to stop at Redamak's for dinner, the girls went wild! Everything was delicious and seating was not a problem. Definitely will be back in the future!
Jack & Joan Hughes
Evergreen Park, IL
---
I currently live in San Diego, yet I actually grew up in New Buffalo/Union Pier and hadn't been to Redamak's for almost 20 years!! Til September 2006! Now, whenever I go visit my family in Chicago, I have to go to Redamak's for the best burger in the USA. Having been in the USMC for many years and travelled all around the States, Redamak's still has the BEST burger ever!!! I will be visiting Redamak's…I mean my family…more often now!
Camille Wells
San Diego, CA
---
Hello! I have known the Maroney family since I was a little girl! On top of them being an AWESOME family, they are also top of the line when it comes to their restaurant! My family and I have been going to Redamak's since we were very young. Having such a large family, it was always the best place to go.
Jennifer Bolton
LaPorte, IN
---
We make a special trip just to take in the sunset and head over for the great burgers. Now I'm on Weight Watchers. Any suggestions or should I just count on using my 35 extra weekly points all in one meal?
Lorna Nelson
Crown Point, IN
---
Hi from Tinley Park, Illinois! My husband and I had gone up to New Buffalo in the Fall and had always wanted to stop by your famous restaurant for your famous burgers! We sure were NOT disappointed! I loved the taste of the old fashioned burger we remembered from our teen years in Chicago, as from Big Boy near 63rd and Damen! The only thing that disappointed my husband was that he could not get a cup of coffee! He is only a coffee drinker, but I enjoy a beer or glass of wine! He was upset because he couldn't get his coffee. We were surprised since we had always through coffee would be on all menus! Is there any reason you don't server coffee??? I would think on the cool nights, people would love a cup!
Diane Weyhe
Tinley Park, IL
---
Every year on opening weekend, my friends and I make the trip from Chicago to have the first burger of the year. We wait three long, cold, snowy months for the wonderful taste of a Redamak's!! I can't wait for March 1st! The saddest day is when we have the last burger of the season. We eat everything slow to enjoy every taste! I do love Redamak's!
Melissa Heneghan
Chicago, IL
---
As a non red meat eater, but a working person, I'd love to see something other than hamburgers on the Working Person's Special.
Bruce Beckman
Downers Grove, IL
---
Hey – I know you open March 1st every year, but because it is leap year and I'll be driving from Chicago to Flint, Michigan for the weekend, is it possible for you to open this year on 2-29-08? I will be driving by to see midday tomorrow – hope the pan is hot! Of course you will get my business on my return trip this coming Sunday – and I can't wait!
One of the Regulars, Earl West
Chicago, IL
---
Top 10 reasons why you should go to Redamak's:
10. Good times
9. Got a date…come here
8. Legendary food
7. Start a tradition in the family
6. Quick serving
5. Never have to wait
4. The place to eat after the beach
3. Outside porch or inside to eat
2. Great environment
1. THE BEST BURGER EVER!!!
Ethan
Evergreen Park, IL
---
Its been our family tradition for the last 10 years to eat at REDAMAKS after taking the kids pumkin picking at Coulter's pumkin farm in Westville, In. The food and service is second to none. Thanks for being a part of our family tradition.
Tom Albano
Chesteron, IN
---
I have been a die-hard Redamak's patron for more than 20 years. I first discovered the legend of this burger when the restaurant was on Wells street in Chicago. Now, I come once a year all the way from San Francisco because the burgers and cheese fries are just that good (okay, I also visit my parents in Chicago). I know there are others out there who love this place as much as I do and this is what makes this place so special. I just shrug and shake my head every time someone tells me that I have to go to 'this place or that place' because they have the best hamburgers. Quite simply, these hamburgers are unequivocally the best in the world. For anyone who has doubts, they will have to come to the tiny and wonderful town of New Buffalo Michigan to experience the legend for themselves. More often than not, you will hear someone proclaim to someone, "This is the best burger I've ever had."
David Stone
San Francisco, CA
---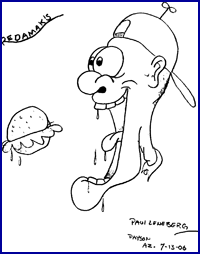 My family and I come to Michigan City Indiana every year around the fourth of July and when we do we always have to come to Redamaks to eat. I love the burgers and my dad loves the chilli. You can not get food like that anywhere in the south. You need to make it a franchise.
Lauren Jefferies
Trumann, AR
---
This is really an excellent hamburger. While traveling with family this past Labor Day weekend, we discovered Redamak's. It was so good – all 6 of us came back the next night and ordered the exact dinner again!
Stephanie Elson
Brimingham, AL
---
I think Redamak's is soooo super! I traveled to Detroit recently for family matters and stopped at you burger joint along the way. I have to say, I thought it was pretty swell. Being from Gaylord, Wyoming I don't really travel a lot and have to say your place makes me want to visit again and again. My partner Tim also likes your place and we hope to return someday. I really don't have any suggestions cause I think your joint is the besty baloo (cowboy lingo). But we hope to see you in the future! I LOVE Redamak's!
Travis Whitaker
Gaylord, WY
---
My buddy Joe and I started fishing Lake Michigan in 1983 with Captain Ron Kimball of New Buffalo. He recommended what he called "the best burger a person could ever eat." We were not really skeptical, but that was a large statement. Well, he was right. We have fished here one or twice every year, and we always make it a point to join you. We were back on the lake again on May 19 and introduced 2 more fisherman to your establishment. 23 years after our 1st visit it is still the same. Nice to say some things never change. Thank you, not only for the wonderful food, but also for the total dining experience.
Rick Morphew
Danville, IN
---
We just love you guys!!!! My husband and I have been coming there since we met in 1975 and our two girls have been coming since they were babies-one is now 16 and the other is 12. We visited this past weekend and could not wait to taste your cheeseburgers!! Thank you for 30 wonderful years and for making us feel at home!
Chris & Peg Neubeck
Evergreen Park, IL
---
We have been eating and drinking with you since 1972!! Your burgers rock and still taste the same as the originals. I would like to see pictures of the bar (circa 1970's) before all the remodeling in the new place. Maybe you do have some up, I haven't seen them. I had a friend who was a waitress in 1972-75 and vividly remembers how the first Redamaks looked. Dillingers "machine gun" sign is always a topic of conversation when we bring out of towners in to experience the best burgers on earth. Thank you for great dining and drinking experiences with my family and friends past and future!!
Debbie
Michigan City, IN
---
My first Redamaks experience occured when I was growing up with my family in South Bend, IN and we would travel up to New Buffalo or Warren Dunes in the summer time. Redamaks hamburgers were always the way to end the day. Now I have my own family and the tradition continues with all 6 of my children as well as most of my employees at Michiana Computers. We hope Redamaks is around for a long time to come. It just wouldn't be spring or summer in Michiana without it!
Bill Reasor
South Bend, IN
---
On April 3, 2006, the day after my 40th birthday, my dear husband and I visited Redamaks for the first time. The cheeseburgers were FANTASTIC and I was so happy to see HEINEKEN on draft!! We have passed by before but it was always during the winter. Needless to say, we will be coming back, and soon! You have killer burgers, great atmosphere, and excellent service. Customers for life!!
Kim and Vern Hallas
Chicago, IL
---
We finally experienced your marvelous restaurant on a recent trip to Chicago a few weeks ago. We loved it so much, we even stopped on the way back! But, one question for you, why do you not serve coffee? We had our elderly mother with us and she loves her coffee! We will still continue to come enjoy your fabulous food, but sure wish we could get a cup of coffee, too! Thanks!
Jan & Mike Hollinrake
Kentwood, MI
---
I came down once and bit into a legend and said to myself, "this is the best burger I've ever had." I love Redamak's!
P.J. Henderson
Portland, ME
---
I hold dear in my memory an image of a double cheeseburger that I had several times in the early seventies at Redamak's. I and my fellow teenage hippie friends used to go camping at Warren Dunes, and we would hitchike back up the Red Arrow Highway to Redamak's for double cheeseburgers and schooners of Pabst. (Drinking age was 18 then.) As I recall, and I hope memory serves, the burgers were cooked, the slice of cheese melted on top, and then they were dunked in a pot of melted cheese. Am I out of my mind? Am I making this up? I do remember that it wasn't expensive. But the fact that after thirty plus years in the global restaurant business, I still remember a place in New Buffalo, says something to me.
Bob Parker
St. Paul, MN
---
My annual opening weekend cheeseburgers were better than ever. When my waitress asked if we had decided yet, I told her I knew what I wanted a week before you were open. My usual order for so many years – 2 cheeseburgers-plain, fried zucchinni, Michelob Light on tap – was oh so wonderful. When you took the zuchinni off the menu, I switched to onion rings, then there was the really good Onion Tanglers – now they are gone!! Can you please bring them back, oh please oh please, and maybe even the fried zuchinni? We make the drive up often, always on my birthday, and now my daughter is old enough to drive and she brings her boyfriend. We love the food, service and the feel of Redamaks. Thanks. (but bring back the tanglers).
Eric Ehn
Porter, IN
---
You guys rule. We drove three hours just to eat here but you guys were closed for the season. It's ok though, we have eaten there before and we will be back. Great burgers!
Randy
Orland Park, IL
---
I've been going to Redamak's for nine years. First, we would go apple picking and then we would come to Redamak's. The food is GREAT there. I love the game room, too. I LOVE REDAMAKS!!
Rachel Reitan
Crown Point, IN
---
I had my first Redamak's experience this past Saturday and now I am hooked. I plan on making a day trip of eating lunch/dinner with you guys and going apple picking.
Krysta Kennedy
Valparaiso, IN
---
Visited for the first time today with my in-laws, wife, daughter, and son whose first birthday we were celebrating. The waitress brought us a soufflé cup with whipped cream in it and a candle for the occasion. We love your juicy, mouth-watering burgers (I was the only one to brave a 30th Anniversary Legend!) and the Barq's Red Cream Soda. We'll be sure to visit whenever we visit Michigan City's Outlet Mall. Thank you.
Guy Hauke
Kalamazoo, MI
---
My kids and I ate at your restaurant last evening around 6:30-7:30 PM. I believe our waitress was named Christy. Just wanted to THANK YOU for the good greasy grub and great service. It was really a treat!
Susanna Wolf
Warsaw, IN
---
My husband and I absolutely love Redamak's!!! Even though it's a bit over an hour to get there, we make an adventure out of it by going to the beach and Oinks as well. It's been great seeing the additions/renovations take place over the last ten years. My husband's kids live in Colorado, so we made sure they got to go to the best "burger joint" around while they visited. Sometimes we may have to wait to get in, but it's definitely worth it and it's usually not too long. Thanks for the great food, friendly faces and memories!
Jayne & Darren Burleson
Granger, IN
---
So we went to the Warren Dunes and then to Redamak's – and it was probably the best place. The menus are huge and hard to fit in bags. But I got a double cheeseburger and fries and a chocolate shake…AMAZING!
Heyo Cline
Wheaton, IL
---
Love Redamak's. I used to go to the one here in Chicago. Now every time I come to Michigan, I make a point of stopping in. My girlfriend and I are coming up in July and staying at The Inn at Union Pier. You can bet we'll be in for the best hamburger around.
Terry Hamilton
Chicago, IL
---
I was in there and had the most wonderful server. She was very pleasant and sweet towards my children. She made us enjoy our first dining experience at your restaurant. Our receipt showed her name was Jamie. Keep up the great work!
Kelly
LaPorte, IN
---
I eat there every week – you guys have the best food in the world!
Tim Mazies
New Buffalo, MI
---
We were just at your restaurant for the first time yesterday. We were up visiting my brother-in-law and he took us to Warren Dunes first and then to your restaurant. We have a very finicky six year old that will only eat like ten different things. I asked my brother-in-law if there would be anything that my son would eat at your restaurant and he said that if he couldn't find something at Redamak's to eat then he wouldn't know where to go. Well, we were thrilled with your menu. My son got Kraft Macaroni and Cheese, applesauce and chocolate milk. I was thrilled that there was something there for
him that he would eat. We loved everything about your restaurant and will definitely be back. The food was awesome!! Thank you!!
Kathy
Elyria, OH
---
I just wanted to know how your logo of the guy biting into the huge burger came to be. I also recommend you don't put plastic wrapping on the burgers. But you have the best burgers in the world, and I came all the way from Vermont to bite into a legend. I just said to myself, get busy living or get busy dying. Redamak's rules!
Walt Mehomivichh
Redwolf, VT
---
Hello, and let me just say I consider your burgers the best out of any I have tasted. Coming down to New Buffalo and eating here is something I look forward to every year, and there's no place like Redamak's. I love the atmosphere in the restaurant, and the service is excellent. I just have a few minor suggestions. In your arcade, the games aren't very updated and I know the main focus isn't video gaming, but you might want to consider it. Another thing is you wrap your burgers in that plastic wrapping, and sometimes when you take it off, part of the bun sticks to it and the burger is kind of
scarred. Other than that, this is my favorite restaurant and I hope you can continue the tradition. I can't wait until I can bite into a legend again! See you in April!
Sean Winks
Grand Rapids, MI
---
It's not the tips of the daffodil leaves that are gently emerging from a winter's nap that indicates the promise of spring. No – it's the opening of Redamak's! We once drove from Grand Rapids to enjoy double cheese burgers, only to find out that Redamak's is closed in January. So we dragged our hungry and tired souls to Pizza Hut and talked about coming back in early March to enjoy the most atmosphere and ambiance known to the burger world. Hurray! Redamak's is open!
Katie Rizer
Chesterton, IN
---
I love your cheeseburgers! We spent many summer weekends driving to/from Paw Paw, Michigan. Every time on the way there, and on the way back, we "had" to stop for a burger. Thanks for making the drive to and from Chicago that much more pleasant!
Michael
Oak Lawn, IL
---
I've been going to Redamak's since before I can remember, but I do remember that it is the best burger in the world. I've been going there at least once a week now. But the thing that makes me love Redamak's isn't just the delicious cheeseburgers (well, that helps the cause), but the wonderful service that you receive once you walk through the doors. I'm 13 years old and the Maroney's sure know how to keep me occupied – GAMES! But I think that the Maroney family is a wonderful group of people and that they should keep Redamak's going forever. Thank you – and keep the tradition alive.
Hank Bobillo
Michigan City, IN
---
I love your hamburgers and fries! My family and I visit Redamak's every summer when we rent a house in Grand Beach. I have three sisters that also love eating at Redamak's. When we order, we always get the correct food – and we get it very soon. Your waiters and waitresses are very kind and never forget to say thank you. My family still has some of the old yellow cups you used to give out. We like to eat on your patio for fresh air. Redamak's is awesome!
Tim Hogaboom
Arlington Heights, IL
---
Sitting Here At Redamak's
Sitting here at Redamak's on a Saturday afternoon,
My sweetie and I drinking a beer and humming our favorite tune.
The place is dag blamed busy,
The bartender's moaning,
The barmaids are hustling about
You can hear their groaning.
The customers are happy,
As the folks behind the bar move out so snappy.
At Redamak's, people come for miles around.
No finer place for a bit of "heaven" than this plot of ground.
So let's drink a toast and celebrate the day.
We're sure to stop at Redamak's if again we pass this way.
Ed Wright
Warren, MI
---
I have been coming to Redamak's with my family since I was about four years old, when it was a one room bar with a screen door in the back that always banged when someone came in, and it had one really beat up pinball machine that we played over and over. As a little kid, I can still remember that you got the WHOLE bottle of pop when you ordered a coke – it was the greatest thing. My Dad has passed, but it is still my favorite place to go on a summer day, and I order the cheese-olive burger in his honor. I am always there on March 1st and then also closing day, as we were there today, October 24th and it was awesome. Opening day is only 127 days away….I cannot wait! Thank you for the memories and, as always, the best burger around! And red creme soda too!
Tracy Westwater
Orland Park, IL
---
We ate at Redamaks on Thursday October 21 and LOVED our evening there. I wish we lived closer so we could eat there more often. Thanks for a wonderful meal Would you consider carry-out to us? We're only 2 1/2 hours away. (ha ha) One thought or suggestion…..how about offering kids who do a good job and eat their kids meal receive a free token to play a game in your game room. It would make parents happy.
Kevin Barrow
Marion, IN
---
For 17 years, I have been coming up to Williams Apple Orchard, then coming to Redamak's for a burger with my family. It is a yearly event at the end of September or beginning of October, and now I make a trip back home just to go up for a burger and onion rings – because this is the best place for a burger.
Joe Reitan
Crown Point, IN
---
My first visit there today! Great place. Will definitely be back, every time we come to new Buffalo.
Stephen
Elkhart, IN
---
When I went to visit my aunt and uncle's rented cottage up in Michigan City, he made a comment saying, "Are you guys hungry?" and we repiled "Yes!" He said "I am gonna take you guys to the best hamburger place ever", and I was thinking, "How can anything be better than Top Notch" and he said "We're going to Redamaks!" and I was like "OMG – I heard of that – a lot of my friends have been there", so I was so excited. I ordered the cheeseburger with mayo and pop and fries and ate everything – it was the best! My uncle ended up taking people up there all week, and the last time he went, he got two cheeseburgers! U r the best!
Emma
Evergreen Park, IL
---
My family and I like to visit your restaurant as often as we can. We'll take a trip up to Warren Dunes, and on our way home, we have to stop in at Redamak's or else it doesn't feel complete at all. I recently became a vegetarian and was worried that I wouldn't find anything to eat at Redamak's. Boy was I wrong! Last time I came up, I tried the Vegetarian Pita, and it was so amazing! I can't stop talking about it because it was so good. I also brought a friend in, visiting from Japan, and she thought that your food was great, too. Now the popularity of your restaurant will spread beyond US borders! I really wish you'd re-open the Chicago restaurant – I'd eat there all of the time! Thank you for having good food and a fun atmosphere for so many years 🙂
Becky Jania
Chicago, IL
---
We love Redamaks so much that my friends and I drive two hours in horrific construction traffic to get it. Also, my friend got really mad at me because she couldnt get off work to join us! It was ok because we will be back soon!
Lea
Worth, IL
---
My wife and I were out cruising our convertable T-Bird and thought to stop in for the first time (a few weeks ago). We liked your food so well we went again today! Very good food and great service by friendly waitresses make for a winning combination in our minds!
Jeff Wills
South Bend, IN
---
Hi! We just wanted to say how much we love Redamak's. Each year, we travel to Southwest Michigan to pick apples at Grandpa's U-Pick and visit the Niles Haunted House in Niles. As we have been doing this for over 10 years, no trip would be complete without stopping at Redamak's! We always come on a Sunday in September so the atmosphere is incredible, the football is on the tube, and the staff is beyond wonderful! Thanks again for so many years of memories and great food! See you in a month or so!
Kris Zahrobsky
Berwyn, IL
---
I just wanted to thank you for a job well done! We celebrated my mother's 85th birthday on Monday at your establishment. We sat on your porch area and had great service, great food, and a memorable time. There were 20 of us in our party, and we were expecting some delay on food and service – and were pleasantly surprised. I couldn't have been more pleased with our visit with you. Thanks again, and we'll see you again soon!!!
Mark Micklette
Grand Rapids, MI
---
I have a summer house in New Buffalo, and a few times every summer, I bring a pack of 40 to 50 friends with me. You might have seen us. We're all around 18. We go to Redamak's every night we're there. But my comment is that most of us love buffalo wings. I think you should add them to the menu next year, as they are becoming more and more popular every year with all age groups. I hope you guys never close so I can bring my kids to Redamak's someday.
Ben Holland
Lake Forest, IL
---
Just got home from vacationing in Grand Beach for 2 weeks, as my family has done for the past 15 years or so. We ate at Redamak's about 5 times during that time. One minor disappointment this year was that you have stopped using plastic cups for the kids' drinks. We always liked to take them home with us and replenish our drinking cup supply. Please reconsider using them again for next year. Thanks.
PS: I had my mother and her friends detour from their trip to Saganaw to have lunch. They all loved your burgers.
Scott Hanauer
Springfield, IL
---
As part of our writing program at school, the students had the following assignment: They had to write a persuasive paper about their favorite restaurant. They did a great job! In fact, the papers were so well done that I thought you might like to read what your youngest patrons have to say about your great restaurant. I hope you enjoy reading the review of what makes your restaurant so wonderful, as seen through the eyes of a 5th grader. Happy reading!
Linda Smith, 5th Grade Teacher at Mann School
Oak Park, IL
'Redamak's the Great' by Sam Blobaum
Redamak's is a great restaurant and my family and I love it. Some of the best features of Redamak's are its great food, its terrific location, and its historic past. I frst went to Redamak's in the summer of 1999 when I was only seven. Redamak's is made of wood and has a large screen porch that is very appealing in the summer. Although everyone likes a beautiful restaurant, the food is everything.
Redamak's is not your foreign food restaurnt; it is a truly American casual food restaurant. For example, Redamak's has unbelievable hamburgers. The burgers are huge half-pounders splattered with whatever you desire. Also, for adults, Redamak's has awesome ham sandwiches or, on the side, amazing onion rings. Redamak's also has very good homemade shakes. Of course, no restaurant is complete with location, location, location!
Redamak's is conveniently located on the main street in New Buffalo, Michigan. It's easy to spot Redamak's because of its huge sign. New Buffalo is a town in southwest Michigan right on the lake. So, you'll find that almost everyone at Redamak's is a vacationer and is very happy. It sits right in a grove of trees. Redamak's is about halfway between Oak Park and South Haven, so it's a good place to stop when some younger travelers get sick of being in the car.
George and Gladys Redamak originally opened Redamak's in 1946 and lots of people liked it. Then Jim and Angie Maroney bought Redamak's in 1975. They opened a second Redamak's in Chicago with the same great food. Unfortunately, the Redamak's in Chicago closed down about ten years ago. Now Chicagoans, who liked Redamak's, have to go to Michigan. Some people even have weddings and parties at the Michigan Redamak's. Redamak's also shows its age inside. There are old pinball machines and arcade games at Redamak's. There are also many televisions at Redamak's, so sports fans can watch the games.
All in all, Redamak's is an absolutely terrific restaurant. Redamak's has terrific things to chow on, where Redamak's is located is great, and Redamak's has an interesting past. We usually go to Redamak's every year and I usually have a hamburger. I hope that our family will go to Redamak's again. Redamak's is a great restauarant and everyone enjoys it.
---
My family and I come all the way from Trumann, Arkansas just to eat your chili! We think it is the best chili that we have ever eaten! We can not get that kind of good chili in the South. I wish you would put one in Trumann – we would probaly eat there every night!
Lauren Jefferies
Trumann, AR
---
My husband and I took a trip north yesterday from our home near Indianapolis and guess where we ate lunch? At Redamaks, of course! We were starved by the time we arrived in New Buffalo and were worried that we might have to eat from a gas station, when we fell upon Redamaks. The parking lot told us it was a safe bet to stop. Let me tell you, our first time at Redamaks was wonderful and will not be our last!! What do you suggest we do on our next trip north? We have two teenage daughters who usually travel with us. I was also wondering if you could reccomend a place to stay? We are thinking about Labor Day weekend? Thanks for a great lunch yesterday!
Betsy Greene
New Palestine, IN
---
I have been coming to Redamak's since 1969 – regardless of where I live (La Porte, Chicago or the Twin Cities)! I grew up in LaPorte (just down the street) and I'll be buried in New Buffalo. Folks think I'm crazy to drive all the way from Minnesota for a burger, but it's truly worth it! I visited your fine establishment in late June and memories came flooding back! My only disappointment is the paved parking lot – I remember and loved the unadorned lot from years gone by. One tradition I can no longer practice is celebrating my Dad's birthday with the annual opening each year on his birthday. At the time, I lived in Chicago and would visit him that first weekend after his birthday. We would head over to Redamak's and he'd have his shrimp basket. I would have my chili, cheese, and olive burger. Afterwards, we'd head over to La Porte and have a DQ, as it would have just opened on March 1st too. Dad passed away in 1990, but I definitely feel his presence whenever I get lucky enough to patronize your fine establishment. Thanks for being there and thanks for the memories!
PS: Growing up, my idea of a perfect date was to go to Redamak's for a burger, go for a walk on the beach, and then a little necking on a country rode – hhhhmmmmm!!!
Laurie Weatbrook
Bloomington, MN
---
This is a THANK YOU to a great restaurant with a staff of WONDERFUL employees. This past Saturday around 2PM in the non-smoking area, my husband Michael had a medical emergency. Your staff was wonderful and took control of the situation. I dont know who they were, but I just wanted to THANK them ALL from the bottom of my heart. My husband is a pretty healthy guy and, when he passed out, I was beside myself. He was cleared of any cardiac or medical problems. We will return for lunch the next time we are in New Buffalo because we cannot pass up such a great Cheeseburger……..
Thank you again.
Lynda O'Keefe
Merrionette Park, IL
---
I took my family up to your fine restaurant on July 5th for lunch. It was the first time for my son and daughter. They both loved your burgers!! Before we were seated, I noticed a plaque in memory of a past employee. This must have been someone special to you and your family? Is this the same person on your logo?
Aaron
South Bend, IN
---
I love Redamaks! I was highly amused to find that you have a website!
Martha
LaPorte, IN
---
We had lunch there yesterday and I was impressed with the BAC, weight, drink chart on the menu.
Norval Stephens
Barrington, IL
---
I Love Redamak's. I make a special trip to New Buffalo for the opening of your great restaurant! No matter how far away from there I end up living, it's never too far to travel to come back and enjoy the BEST CHEESEBURGER in the WORLD!!!!!!
Anonymous
Okemos, MI
---
My son-in-law ate lunch at your restaurant last week and noticed the last name, and also commented on what great food you have. I'm always interested in anyone with the name of Maroney. My father-in-law came from North Carolina years ago; any chance of a connection? Hope to make it up there one of these days just to sample the food.
Carolyn Maroney
New Haven, IN
---
What happened to your restaurant in Chicago? We had gone there for years, and now can't find it!!!
Mark Toth
Lynwood, IL
---
Where is the Miller Lite in a bottle!? That is the second reason we come to Redamak's. Of course the first is the GREAT burgers!!! PLEASE get Miller Lite in the bottle back! I promise we will spend even more money at Redamak's!
Tim & Tammy Pallett
Bridgman, MI
---
Redamak's is truly a legend. Your burgers are quality, and the atmosphere in the dining rooms is excellent. I love the logo with the guy biting into the big honkin' burger; it's a classic. I can't say enough about your burgers; they are very hardy and beefy, and I bet they did make New Buffalo famous. When my family travels down to Chicago, we always stop at Redamak's for a burger and my little brother gives you compliments for the fried clams. Overall, for food and restaurant, it's a great tradition. One suggestion: Get better games in the game rooms – they are kinda getting old. But love the burgers – they are my favorite. Keep up the good work!
I've been a fan ever since I saw the billboard. I'm kind of like your Redamak's unofficial spokesman. Anyway, I was wondering if you are going to open a Redamk's anywhere else besides New Buffalo? I was also wondering if you are going to extend the season ever? One more thing: Do you sponsor any hockey teams? You will always be my favorite restaurant! God Bless!
Sean Winks
Grand Rapids, MI
---
We came to New Buffalo to vist some family and they took us there the first night we arrived and they said "try it" and WE DID and loved it. THE BEST CHEESEBURGER IN THE LAND!
John and Jan
Virginia
---
A fan of the best burger for 18 years now. I look forward so much to March. You open the first of the month and my birthday is that week – I celebrate every year by a visit. And I come at least once a week all summer. Improved facilities, always fantastic burgers. Thank you Redamak's…..
Ronda
LaPorte, IN
---
Hi Linda. I am a fan of Redamak's and would like to know if you plan to open a restaurant in Birmingham or Royal Oak.
Paul Biskup
Highland Park, MI
---
My wife and I visited Harbor Country this past Fall. We happened to learn about your establishment on the last day before you closed for the season. Luckily, we had the opportunity to dine there and taste a few items. We really enjoyed it. On our next trip down, we will be sure to make you our first stop. See you then!!!!
Jim Vogel
Elmwood Park, IL
---
I used to date a girl for several years in Chesterton, IN. She introduced me to your establishment, and as a burger lover, this is the best burger I know of, from Florida to Michigan to Ohio to Indiana. I make a point once a year to make the 3.5 hour trip from Indianapolis just for a double cheese basket. If you have interest in opening one in Indy, let me know. In the meantime, keep making 'em.
Anonymous Fan
Indianapolis, IN
---
My wife and I just returned from our final Redamak outing of 2001. What a treat! Nothing makes a road trip through SW Michigan better than a Legendary Redamak's cheeseburger, a basket of fries and a pile of onion rings! Looking ahead to another 1/2 dozen trips to Redamaks next season. Have a nice vacation!
Paula & Cathy
Naperville, IL
---
If I told you how many years I've been coming up to eat, I wouldn't be able to lie about my age. Don't change a thing.
But in that vein, no self-respecting working person should be forced to ask for an order of onion "petals". Real working people eat onion "chips". I stubbornly continue to ask for onion chips. And, your wait staff continues to gently suggest that I mean petals. I know, I know – A chip by any other name…
But I hope you've still got time to make the change back for the new menus.
Thanks for the good times.
Bill
Valparaiso, IN
---
Recently a friend in my office stated he was going to make a 'round the lake' trip over this last Memorial Holiday weekend starting out in Peshtigo, Wisconsin and going over the top and then working his way south through lower Michigan. I suggested as he was passing around the Indiana side that he stop in to New Buffalo and try a Redamak's burger.
Our family lived in New Buffalo back in the mid to late 80's for about five years as I was stationed at the local Coast Guard Search and Rescue Station in Michigan City. We loved living in New Buffalo and frequented your establishment on a weekly basis for the great burgers during the summers.
So many eating places around this great country of ours we've remembered over the years, and Redamak's still stands out as one of our all time favorites.
To be honest, that whole area around Michiana had some of the best restaurants we'd ever visited. HI's in St. Joe and Niles, the Hacienda, the Little Bohemia, Rose's Diner, and of course Redamaks.
We've been wanting to make a trip down one of these weekends to see everything again. Visit the old neighborhood, as it were. So maybe we'll see ya in a few. In the meantime, we'll continue to recommend folks stopping in.
By the way, the friend who stopped in this past weekend stated to me that it was the best burger he'd ever had.
Really appreciate the menu you gave him to bring back for us. My family loved it, they really thought it was great, brought back a lot of great memories of New Buffalo when I found it laying on my desk this morning.
Anyway, thanks again.
Harvey & Roni
Green Bay, WI
---
I have been in Florida for three years now. I am so home sick and one of the things I miss the most is Redamaks. Hopefully soon I can get home for the best cheeseburger in the world. Have a wonderful season.
Tiffany
Lake Wales, FL
---
When we come to Michigan twice a year, my mother refuses to come with us to Redamaks because you don't serve coffee and she can't eat a burger without a cup of coffee. Since she lives in Three Oaks, you are losing her business. She eats out regularly but avoids your terrific place.
Can't you reconsider putting coffee on your menu?I am sure lots of folks who come for dinner and lunch would be appreciative.
Suzanne
Fairfax, VA
---
Early this summer, I decided to fly my family home to Long Beach Indiana for a Labor Day weekend visit. The only food join on my mind is Redamaks and your burger and O-Rings. We will see you on Labor Day weekend. Your The Best Burger Anywhere. Open a place in Florida.
Cary
St. Petersburg, FL
---
My son, Damian, just returned from standing in a wedding out your way yesterday. He was telling us about this neat place called Redamaks, where the wedding guys went for lunch on Friday. Then he came over and clicked on the computer and said there it is. After that, he promptly left for Sunday softball.
I started to read through your website and found the history. It brought tears to my eyes several times. The flow is excellent. The character of the restaurant and the people who started it and those who now own it!!! It surely has made me want to go and see it and enjoy one of your "legendary burgers". My husband and I both retired (from education) in June. With a little more time on our hands (ha), and his brother having a farm over in the Wayland area, I think we will have to schedule in a visit to your area and restaurant!
Keep up the good, honest, hard work that has brought you this far. And thanks for putting the story on the web. It is the best I've read about getting from there to here.
Sincerely,
Marie
Location Undefined
---
Have something to say, would you like to ask a question, tell us what you think, or share your favorite Redamak's story? Click here and tell us about it.