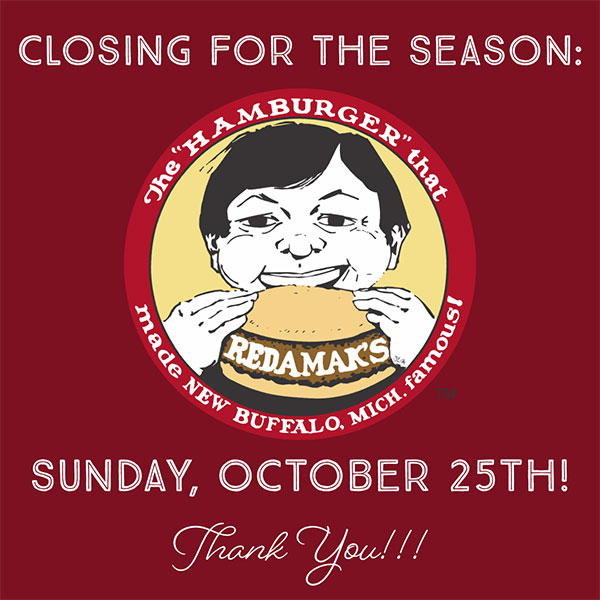 We will be closing for the Season on SUNDAY – OCTOBER 25th!
 Hours that day will be 12pm-9pm EDT (please note we do typically run out of some menu items that day so we unfortunately can't guarantee supplies).
 To our Staff: You are Rockstars! We cannot thank you enough for your continued dedication and hard work through these very trying times. We are so grateful for each and every one of you!
️ To our Patrons and Community: Thank you for your continued love, trust, & support!
 Stop in & see us one more time this Season and "Bite Into A Legend!!!"™️
To our community, loyal customers and deeply devoted staff members. Redamak's will reopen once again for our 45th season, Thursday June 25th at Noon eastern time!
The process has been incredibly challenging to say the least. We have spent many hours formulating our plan to assure that will all have a safe and secure dining experience. Our hesitation to reopen has proven to be a wise decision. With the guidelines changing almost daily we felt the wait and see approach was best for all. The one constant is Customers and staff will be required to adhere to some safety guidelines. These guidelines have been formulated by the CDC and executed by our Governor for everyone's safety. These are not negotiable. Your cooperation and understanding will be vital for us to reopen and remain open serving our "Legendary Burgers"! If these new guidelines cannot be met, you will be denied access to our restaurant. May we suggest a Carryout order instead!?
If you recall since March 16th our message has been clear and consistent. "We want to be to be a part of the solution, not a part of the problem"! To our Managers, Supervisors and entire staff, thank you for your hard work and perseverance in preparing the restaurant for reopening. The restaurant looks amazing! Your sacrifice and dedication show! I am sure our community and loyal customers will be extremely surprised but more importantly grateful.
Thursday marks a milestone for us as we approach our 45th Anniversary. We would be remised if we did not offer a sincere Thanks to "Jimbo" and Angie for their vision and resolve. Thank you Mom and Dad, "The Tradition Continues" in your honor!
Be Safe, Stay Healthy!
Chuck, Linda, James, Charlie, Katie, Nikki, Gigi, and Redamak's Team
COVID-19 Preparedness Plan (PDF)
---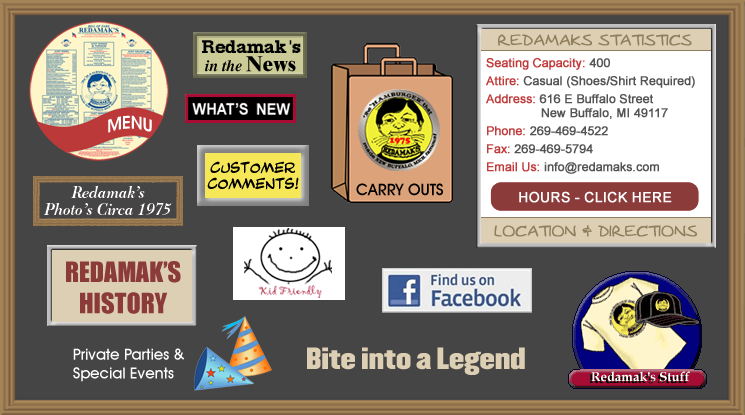 The Hamburger that Made New Buffalo, Michigan Famous!!™
Come enjoy the world-famous burger that makes our fans come back year after year, often driving from across the country to experience!
Since 1975, our fun, family-friendly and kid-friendly environment makes Redamak's ideal for lunch, dinner or a private party or special event! We are open 8 months a year March 1st to October (Closing date TBD) with multiple dining rooms to provide for maximum comfort and minimum wait.
So what are you waiting for? You know you want some! "Come On Bite Into A Legend!!!"™