Just Soups | Just Sides | Just Potatoes | Just Wraps | Just Wings & Tenders
| Build You Own Legend | Ultimate Gourmet Burgers
Just Salads | Seafood Affair | Just Dogs | Change of Pace
Click here for downloadable/printable version of our complete menu
JUST SOUPS

Freshly Prepared Daily:
Angie's HomeStyle Chili or Soup of the Day
Sunday-Thursday
Housemade Chicago Cheddar
Cup – $3.50 • Bowl – $4.00
JUST SIDES
Dipping sauces served on the side
HOUSEMADE SHREDDED COLE SLAW
$3.00
BATTER DIPT CAULIFLOWER
$6.50
"NEW" BATTER DIPT BUFFALO CAULIFLOWER
$7.00
"NEW" WISCONSIN CHEESE CURDS
$6.50
BREADED CLAM STRIPS
$6.50
BREADED MUSHROOMS
$5.50
BREADED JALAPENO CHEDDAR BITES
$7.00
BATTER DIPT ONION RINGS
$6.50
BREADED MOZZARELLA STICKS
$7.00
BREADED ZUCCHINI STICKS
$6.50
MINI TACOS (deep-fried)
$7.50
MINI CORN DOGS
$6.00
PRETZEL BITES (Lightly salted)
$6.50
Served with Mild Cheese sauce for dipping
CHARLIE'S COMBO (No Substitutions)
$12.95
Breaded Mushrooms, Breaded Ravioli, Onion Rings, Mozzarella Sticks & Zucchini Sticks.
KATIE'S COMBO (No Substitutions)
$9.95
4 Boneless Chicken Strips & 4 Mozzarella Sticks.
GARDEN BASKET (No Substitutions)
$11.95
Onion Rings, Breaded Mushrooms, Breaded Zucchini Sticks,
& Batter Dipt Cauliflower
JUST POTATOES

French Fries
$3.50
Cheese Fries
$4.50
Chili Cheese Fries
$5.50
Sweet Potato Fries
$4.00
Red's Chips
$6.25
Deep-fried Crinkle Cut Potato Chips with Cheddar Cheese Sauce & Bacon Bits
Plain Chips
$5.00
Deep-fried Crinkle Cut Potato Chips
BBQ Chips
$5.00
Deep-fried Crinkle Cut Potato Chips tossed in our house blended BBQ Seasoning
JUST WRAPS

All items below served a la carte
HAPPY'S WRAP
$8.25
Grilled Chicken Breast Strips blended with melted Swiss Cheese, fresh Bell Peppers, fresh sliced Mushrooms, and Grilled Onions wrapped in a Flour Tortilla
BUFFALO CHICKEN WRAP
$8.25
Deep Fried Breaded Chicken Tenders coated with Buffalo sauce, Shredded Mild Cheddar cheese, Lettuce and Tomato wrapped in a Flour Tortilla
CHICKEN CAESAR WRAP
$8.25
Deep Fried Breaded Chicken Tenders with Romaine Lettuce, Caesar dressing and shaved Parmesan Cheese wrapped in a Flour Tortilla
TURKEY BACON RANCH WRAP
$8.25
Thinly sliced House Smoked Honey Turkey Breast with Bacon, Lettuce and Tomato wrapped in a Flour Tortilla with Ranch
JUST WINGS & TENDERS

All Chicken Wings and Tenders are deep fried may be served plain or smothered in your choice of sauces; Buffalo, BBQ, Blueberry BBQ, Honey BBQ, Parmesan Garlic, and Our New Buffalo Parmesan Garlic sauce. Served with Celery sticks and your choice of House-made Ranch or Bleu Cheese Dressing
TRADITIONAL WINGS
6 for $7.25
12 for $12.75
BONELESS WINGS
1/2 LB. for $6.75
1 LB. for $10.50
CHICKEN TENDERS
4 for $7.00
8 for $10.50
Our Burgers are freshly cut and ground in our own kitchen. All burgers are prepared to Medium Well, served on a Sesame Seed Bun and may be dressed with Ketchup, Mustard, Crosscut Dill Pickles, and Raw Onion (What we call Everything) Lettuce and Tomato available upon request
Additional Cheese choices are Swiss, Pepper Jack, Mild Cheddar
"The Legendary" (5 1/3 oz before cooking)
HAMBURGER
$6.50
VELVEETA CHEESEBURGER
$6.75
DOUBLE HAMBURGER
$8.00
DOUBLE VELVEETA CHEESEBURGER
$9.00
Make it a TRIPLE – Add $2.25
"The Ultimate" (8 oz before cooking)
HAMBURGER
$8.25
VELVEETA CHEESEBURGER
$8.50
DOUBLE HAMBURGER
$9.75
DOUBLE VELVEETA CHEESEBURGER
$10.75
Make it a TRIPLE – Add $2.25
"The Tradition Continues™ Hand Crafted Burgers"
BISON BURGER
$8.95
5 1/3 oz. Ground Bison grilled to perfection, with Hardwood Smoked Bacon, Caramelized Onions, and Crumbled Goat Cheese served on a toasted Brioche Bun with Lettuce and Tomato. (Bison is very lean and will appear red or pink in color, note it is prepared and served at proper temperature)
*NEW* BLACK BEAN BURGER
$7.50
Morningstar Black Bean Chipotle Vegetarian Burger, a savory blend of black beans, brown rice, corn, diced tomatoes, green and red peppers. Served on a Brioche Bun with lettuce and tomato. (add cheese $ 1.00) (contains egg)
TURKEY BURGER
$7.50
House Ground Turkey – Our custom blend of spices, red onion, Jalapenos mixed with 4 oz. of our House Ground Hand Pattied Turkey served on a Brioche Bun. (Add cheese $1.00)
May we suggest any of the following toppings to enhance
"YOUR OWN LEGEND"
The following toppings ($1.25/each)
Chili (no beans) • Grilled Onions • Sliced Mushrooms • Sliced Jalapeños • Sliced Green Olives • Avocado or Hardwood Smoked Bacon ($2.00)
Gourmet Buns ($1.50)
Brioche Bun • Gluten Free Bun • Pretzel Bun • Marble Rye Bread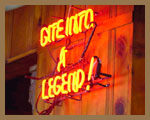 BBQ BURGER$10.50
ULTIMATE GOURMET BURGERS

(All Gourmet Burgers are Prepared Fresh daily, 8 ounces before cooking. Served with French Fries – No Substituions)
BBQ BURGER
$11.00
Our soft Ultimate BBQ Burger is our House Smoke Pork topped with Peperjack Cheese, crispy Bacon, Grilled Onion, our Housemade Honey BBQ sauce on a Brioche Bun.
BLEU BURGER
$11.00
This will leave you singing the "Bleus", Ultimate Burger topped with crispy Bacon, Bleu Cheese crumbles, Grilled Onions finished with our House made Spicy Blueberry BBQ sauce on a Brioche Bun.
BUFFALO STREET BURGER
$11.25
You've Arrived! Let the journey begin with an Ultimate Burger with Colby Jack cheese, a couple Onion Rings, Sliced Jalapeños, Sriracha mayo on a Brioche Bun.
RED A BURGER
$11.50
You will need a knife, fork and a bib to handle this Ultimate Burger topped with Swiss Cheese, crispy Bacon, grilled Onions, Grilled Mushrooms, our House made Chili sauce (no Beans!), A-1 sauce on a Brioche Bun.
*NEW* WILSON STREET BURGER
$11.00
They say garlic is good for the Soul! A unique combination of our Ultimate Patty covered with Parmesan Garlic sauce, topped with Swiss Cheese and Grilled Onions served on a Brioche Bun.
All Gourmet Burgers are Prepared Fresh daily, 8 ounces before cooking.
Served with French Fries – No Substituions
JUST SALADS

We are proud to partner with RAINFIELD FARMS, New Carlisle, Indiana, serving locally grown leaf lettuce and Spring mix. Caesar, Ranch, Bleu Cheese, French, 1000 Island, or Balsamic Vinaigrette
HOUSE SALAD
$6.00
A fresh mix of Salad Greens, Cucumbers, Cherry Tomatoes and Croutons with your choice of Salad Dressing on the side.
"NEW" BUFFALO CHICKEN SALAD
$10.00
A fresh mix of Salad Greens, Deep Fried Boneless chicken wings coated with our Buffalo sauce topped with Bleu Cheese Crumbles, Grape tomatoes, Red onions, seasoned crunchy Croutons and a side of our Housemade Pico de Gallo and your choice of Salad
Dressing.
CAESAR SALAD – Large
$9.00
Our Legendary interpretation of a classic salad – Fresh Romaine Hearts drizzled with Creamy Caesar Dressing topped with seasoned crunchy Croutons and shaved Parmesan Cheese. Add Grilled Chicken Breast or deep-fried Breaded Crispy Chicken Tenders for an additional $4.00
TAVERN SALAD
$8.50
A fresh mix of Salad Greens, Cucumbers, Red Onions, and Grape Tomatoes. Sprinkled with Bacon Crumbles, shredded Mild Cheddar Cheese, and seasoned crunchy Croutons with your choice of Salad Dressing on the side. Add Grilled Chicken Breast or deep-fried Breaded Crispy Chicken Tenders for an additional $4.00
SEAFOOD AFFAIR

LAKE PERCH TACOS
$13.95
3 soft flour tortillas filled with Deep Fried Lightly Breaded Yellow Lake Perch Fillets topped with Simple Slaw, Pico de Gallo, and finely shredded Mild Cheddar cheese. Served with French Fries.
BREADED SHRIMP
$10.95
Breaded Fantail Shrimp deep-fried to perfection Served with French Fries and House made Cole Slaw.
"NEW" BREADED POPCORN SHRIMP
$9.00
Lightly breaded Deep fried Popcorn Shrimp served with French
fries and House-made Cole Slaw.
"NEW" WALLEYE FILLET DINNER
$11.95
Lightly breaded Walleye Fillets served with French Fries and House-made Cole Slaw.
LAKE PERCH DINNER
$12.95
Deep-Fried Lightly Breaded Yellow Lake Perch Fillets. Served with French Fries and House made Cole Slaw
"NEW" BREADED SHRIMP TACOS
$10.95
3 soft flour tortillas filled with Deep Fried Shrimp topped with Simple Slaw, Pico de Gallo and finely shredded Mild Cheddar cheese Served with French fries
JUST DOGS

All Hot Dogs are 100 % Beef and served on a Plain Bun with French Fries
HOT DOG
$4.50
CHEESE DOG
$5.50
CHILI DOG
$5.50
CHILI CHEESE DOG
$6.00
THE NEW BUFFALO STYLE DOG
$5.50
All Beef dog, served on a plain bun, with sport peppers, tomato, mustard, sweet relish, celery salt, and a dill spear.
TWO HOT DOG SPECIAL
$6.95
Two all Beef Dogs served on a Plain Bun with French Fries.
CHANGE OF PACE
All items below served a la carte
JIMBO'S ITALIAN BEEF
$8.00
Thinly sliced seasoned Beef marinated in seasoned Au Jus, topped with fresh Bell Peppers on a French Roll. Served with a side of Mild Pepperoncini. (Add Cheese $ 1.00) ("Make it a Philly" – add $2.00)
PATTY MELT
$8.25
Our Ultimate Hamburger topped with melted Swiss Cheese and Grilled Onions served on grilled Marble Rye Bread. Make it a Double Patty Melt (add $2.25)
B.L.T.
$6.75
Triple decker Bacon, Lettuce and Tomato served on toasted White Bread topped with Mayonnaise. The way Mom used to make it!
HOUSE SMOKED PULLED PORK TACOS
$8.75
Three Flour Tortilla filled with our House Smoked Pulled Pork topped with Simple Slaw, Fresh Pico De Gallo, and our Shredded Cheddar Cheese.
MARTHA'S MADNESS
$7.75
Deep Fried Chicken Tenders topped with melted Swiss Cheese on Grilled Marble Rye with a pickle spear.
"NEW" GIGI'S CHICKEN QUESADILLA
$7.50
Deep Fried Chicken Tenders and Shredded Cheddar Cheese melted between two Flour Tortillas served with Pico De Gallo and sour cream.
CHICKEN BREAST SANDWICH
$7.50
Fresh grilled Chicken Breast, lightly seasoned on a Brioche bun. Served plain or smothered in your choice of BBQ, Blueberry BBQ, Honey BBQ, Buffalo, Parmesan Garlic, Buffalo Parmesan Garlic sauce (Add Cheese $1.00)
PULLED PORK SANDWICH
$7.50
House smoked Pulled Pork topped with your choice of Blueberry BBQ, Honey BBQ, or BBQ sauce and Homestyle Cole Slaw served on a Pretzel Bun with a Pickle Spear.
Prices and Hours subject to change. Carryout Charge
Order Total – Charge
$15.01 to $25.00 – $1.25
$25.01 to $35.00 – $1.50
$35.01 and up – $2.00
Over $ 100.00 – $ 5.00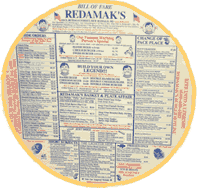 YOUR HOSTS THE MARONEY FAMILY
"OUR TRADITION IS A LEGEND!"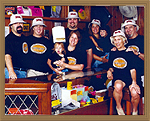 Prices subject to change.
We Do Not Accept Credit or Debit Cards!
*NOTICE: If you have certain Food Allergies, Gluten Sensitive or other Dietary needs, please speak with your Server. Consuming raw or undercooked meats, poultry, seafood or shellfish may increase your risk of Food Bourne Illness.
We will not prepare Rare or Medium Rare Burgers.
*Note – All cooking oil and Deep Fry Shortening is Trans Fat Free*
In Memory of
James P. Maroney, February 27, 1926 – August 27, 2013
Angeline Maroney, March 3, 1928 – February 1, 2014
John P. McKeague, July 9,1930 – April 10, 2018
Dee Dee Vickers, Nov.14, 1951 – July 17, 2019