The Hamburger that Made New Buffalo, Michigan Famous!!™
Everything you wanted to know about Redamak's, but didn't know where to find it, is here now!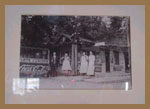 To give an accurate account of the Redamak's story, I would be remiss if I didn't first start with thanking a few individuals for, without their hard work, determination, and dedication, Redamak's in the early years would not have survived, and this all would be for naught.
George and Gladys Redamak, the original owners ran an operation that was truly the American dream. Dating back to the late 1940's, they nurtured and labored for many years in a building not much bigger than a 1500 square foot home. For many years, as you entered the building through that famous screen door, either Gladys or George was there to greet you, most of the time by name and a warm hello. But on occasion, due to being under staffed, the greeting was short and to the point.
Back when there were no waiting lists or reservations, it was literally first come, first served: a comical and sometimes dangerous procedure. Seasoned customers knew the routine and accepted it. This was vintage Redamak's. First time customers were often taken aback by the organized chaos, but, like a duck out of water, they quickly figured out what they needed to do.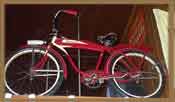 Redamak's, the roadside diner, was, and still is, known for it's family atmosphere, value, service, and quality. The Redamak's would not have it any other way. This has been the foundation they had worked hard to develop and maintain. Customers from around the Midwest appreciated their hard work. This was a part of the dining experience. To this day, Redamak's as we know it boasts "The Hamburger that Made New Buffalo, Michigan Famous!!"™
The Redamak's story is one that is truly unique, or simply put, an enigma. In the early years, the operation was antiquated. From cooking utensils to the cash register, from kitchen equipment to storage space, everything was outdated and overused. The building was over crowded and congested, but that was Redamak's. Customers had no idea what the staff had to deal with on a day-to-day basis to prepare and serve the menu of about 20 items. A labor of love you might call it. The main concern was getting the food out.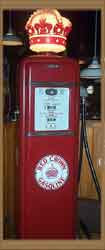 Redamak's can be categorized as a destination restaurant; especially in it's early years when I-94 didn't even exist. Red Arrow Highway was the major artery through and to parts further north. Ideally, from Chicago and surrounding areas, motorists felt that Redamak's was a great place to stop and stretch their legs, even though they may have to fight for a table. The reward: a cold beer or a red cream soda and a great burger were well worth their time. Those were the days…
George and Gladys created an institution comparable to celebrating the 4th of July and eating apple pie, burgers, and fries. My oh my, those were the days…
I must apologize; I've gotten off on a tangent. There are numerous people to thank for their hard work, devotion, loyalty and commitment: Katie Dalzotto, Thelma Dittmer, Mae J. Shiel, Bertha Balzer, Dan Lisak, Linda McKeague-Maroney, The Morrison Family, The Schultz Family, The Koza Family, The Kissman Family, and The Lombardo Family. Our Bankers: Paul Knigga, Larry Bubb, and Dick Gatton. These are just a few of the people that impacted Redamak's in a very big way from either an employment stand point, a financial way, or just as friends. They were the heart and soul, the lifeblood of Redamak's, serving many and knowing that they truly made a difference.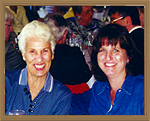 Taking pride in their jobs, while understanding what customer service was all about was and still is the main ingredient. They went the extra mile day in and day out; well beyond the call of duty. They are the ones that instilled the quality and the value, while all the time working in an area that was under equipped, under staffed, and often over worked. But they did it because they believed in this enigma. Serving customers was their number one priority. They did it season after season. They knew what mattered, atmosphere, value, quality and service.
After George passed away, Gladys continued with the labor of love for a couple of years. But it just wasn't the same. George would not, nor could not, be replaced. He was the soul of Redamak's; Gladys was the heart. If something needed to be done, Gladys made sure it was taken care of. Gladys always had a smile on her face, always asking if everything was all right. If not, she made it her business to make it right. Those were the days…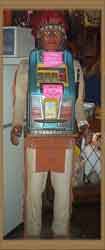 During the fall of 1974, Jim and Angie Maroney received a phone call from Gladys Redamak. A little history behind that phone call: Over the course of about 3 years, every time "Jimbo" would see Gladys he would joke with her. He would say, "Gladys, if you ever want to sell this joint, just give me a call." Well, as fate would have it, she called. Gladys was very concerned about selling the business to just anyone. She felt that the buyer must maintain the quality, atmosphere, value, and service Redamak's was always known for, especially with George's name on the building. That is what he would have wanted.
Through the course of almost a year, finally Jim and Angie Maroney realized their dream. On July 15, 1975 they took over the business. With a lot to learn that first year, trial and error seemed to guide their way. But always remembering the customer came first, whatever it took…
In the spring of 1976, Jim and Angie realized that the restaurant resembled a "bull", and to get the bull by the horns, they needed some help. So, they summoned their two sons from points South and West. Like the Calvary, they came eager to work, to nurture their enigma of a restaurant. With bright ideas and youth on their sides, the four collaborated over the future of this Mom & Pop operation!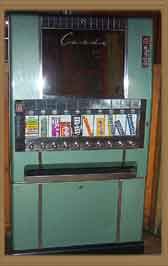 After numerous discussions, debates, and hours of research, the decision was reached to give Redamak's its first face-lift. The winter of 1978-1979, Gordon Kissman and his company broke ground. During this phase, the kitchen tripled in size. Replacing antiquated, overworked equipment with new state of the art equipment (state of the art for 1978). Trial and error ruled, and we learned very quickly that if we were to do this again we needed to find a consultant well versed in restaurant design. The transformation took approximately four months. Weather plagued the project; delays in equipment deliveries tested everyone's patience. With March 1 fast approaching, we were running out of time and had to open, it was a part of the tradition. Well, March 1 came and went, and we were unable to open. Life around 616 East Buffalo Street was very stressful. Delays in shipping the hood system really threw a wrench into our time line. As we approached the second week of March, the decision was made to open the bar only. Within one week, the last nail was driven and, with all of the essential pieces in place, the new kitchen was opened.
Well, as history tells us, prosperity rang its bell again at 616 East Buffalo Street. The powers to be determined that additional indoor seating was desperately needed. Gordon Kissman was called into action once again and the back dining room became a reality on March 1, 1984. But as luck would have it, the room was complete but, due to a delay in shipping the tables and chairs, we were forced to use the wooden picnic tables from the patio until the furniture arrived.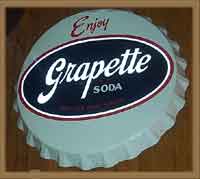 Life at 616 East Buffalo Street continued until the summer of 1989. Maybe it's better to call it the five-year itch. Wear and tear over the past five years was starting to show. With a consultant in hand, plans were drawn and Gordan Kissman was called for the third time; our "what if" sessions really started paying off then. After many hours of discussions, changes, and redesigns, Phase 3 was set into motion. All the time keeping customer comfort in mind, ingress, egress, type of seating, kitchen flow, server stations, lighting, floor coverings, etc. What would the customers think? What would George and Gladys Think? Were we attempting to change too much? As they say, the proof is in the pudding! Change is good, especially when the changes were very functional and an obvious necessity.
With work progressing nicely, it appeared as if we would open as scheduled on March 1, 1990, almost on schedule. Weather prevented us from installing the very large make-up air furnace on the roof for about a week. The last week of February was packed with finishing touches, employee meetings, and numerous deliveries. On March 1, 1990, we opened to rave reviews. Customers were amazed by what had been done in a somewhat short period of time. Those were the days….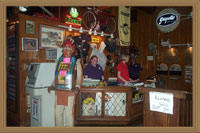 Life through the early 1990's was good at 616 East Buffalo Street. It wasn't until 1995-1996 that we noticed things leveling off at Redamak's. Had we seen the end of the proverbial growth at Redamak's? With the help of many valuable employees, some brainstorming, we tightened our belt, curbed our spending, and Redamak's weathered the storm.
The summer of 1995 was the hottest summer we could remember, and with no air conditioning, the realization slapped us in our face. We could not continue under these conditions. September marked the end of an era – Redamak's received air conditioning! How did we exist all those years without it? What a difference it made. The spring brought April flowers, and a paved parking lot to 616 East Buffalo Street, yet another improvement that proved to be vital to the overall operation.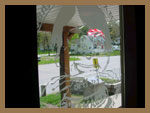 Since 1975 until the spring of 1998, Redamak's operated one of only a few true outdoor beer gardens. This area, unique to many, posed many problems from a practical standpoint. For a good percentage of the summer season, employees and customers alike battled the elements. There were good days and there were bad days. Summer brought rainstorms, heat waves, and mosquitoes. There were summers when the area stood dormant due to these factors. Customers were asked to tolerate the conditions.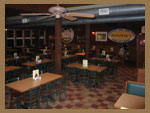 In the fall of 1997, the decision was made to enclose the outdoor patio. The project took shape at the end of March 1998, and within three weeks, the enclosure was complete. From a practical standpoint, we eliminated most of the elements, with the exception of those hot summer days. In comparison to years past, the porch area has and will continue to be the "best screened in porch in Harbor Country".
In the winter of 2002/2003, Redamak's took on yet another project. Utilizing the existing screened-in porch area, a three-seasons room was envisioned. Windows were installed, a furnace set in place – a little paint and a lot of cleaning and there you have it – Harbor Country's Finest Three Season Room! Sit back, relax, and enjoy a legendary burger with friends while laughing at the elements… This latest remodeling can only help us on those busy Saturdays and Sundays early and late in the year, especially with accommodating larger parties.
Our 2004 season proved that our local economy showed no signs of the election year "blues". With an increase in traffic, we striped our parking lot to hopefully eliminate customer parking woes. In the fall and winter of 2004, numerous projects took shape. Additional parking was added to the North East corner. Our Four-season room was tastefully redecorated to create a more appealing environment for our customers.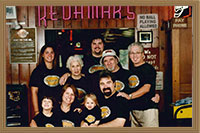 Redamak's has grown by leaps and bounds over the years. Many things have changed, but as we all know, change is good. The Maroney Family has maintained the integrity that Gladys wished for in 1975. Their direction has been the guiding light for all employees to follow. But truly, employee feedback has played a big part in the scheme of things. Who better to ask than those that are doing it every day.
In the immortal words of Jimbo: "Thanks for the business. Could you come back in on the 15th, I've got a mortgage payment due!"
Thanks for visiting our web site.
The Maroney Family